We're being hounded' - French transgender sprinter Halba Diouf decries Olympics ban for trans women
French sprinter Halba Diouf who has been training hard to improve her 200 metres time in the hope of running at the 2024 Games, has alleged that the trans community are being marginalised and hounded after the World Athletics (WA) banned transgender women from elite female competitions.
The governing council of World Athletics had in March, banned transgender women who have gone through male puberty from competing in women's events, citing a "need to protect the female category."
Speaking to Reuters, Diouf who was hoping to participate in next year's Paris Olympics said;
"I cannot understand this decision as transgender women have always been allowed to compete if their testosterone levels were below a certain threshold.
"The only safeguard transgender women have is their right to live as they wish and we are being refused that, we are being hounded… I feel marginalised because they are excluding me from competitions."
Born in Senegal, Diouf arrived in France at the age of four. As an adult, she moved to Aix-en-Provence where she started hormone therapy to change sex – and her gender transition was recognised by French authorities in 2021.
The tighter measures imposed by WA around one of the most contentious and divisive issues in sport – how to balance inclusivity while ensuring there is no unfair advantage – follow a similar move by World Aquatics in 2022.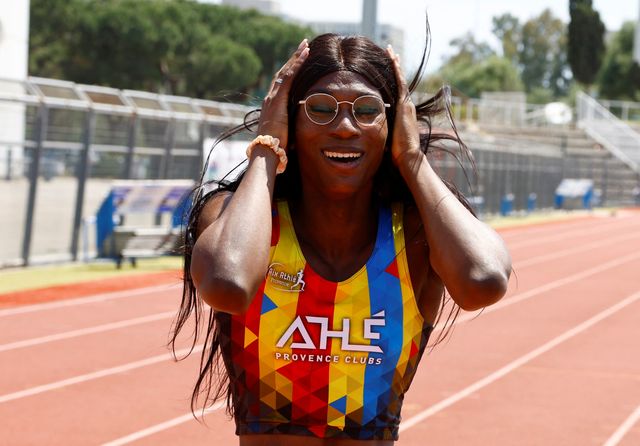 LGBTQI advocacy groups say excluding trans athletes amounts to discrimination. Reacting to the claim, the World Athletics President Sebastian Coe has said:
"Decisions are always difficult when they involve conflicting needs and rights between different groups, but we continue to take the view that we must maintain fairness for female athletes above all other considerations."
Before the new rule was announced, female transgender and athletes with Differences in Sex Development (DSD) could take part in elite events between 400m and the mile only if their levels of natural plasma testosterone was below five nanomoles per litre, though 100m and 200m sprinters were clear to race.
The rules impacted DSD athletes such as two-time Olympic 800 metre champion Caster Semenya and Francine Niyonsaba, who finished runner-up to Semenya at the 2016 Olympics; neither were allowed to compete at the 2020 Games. Namibia's Christine Mboma shifted from her preferred 400m distance to the 200m in Tokyo and won a silver medal.
In March WA's council cut the maximum amount of plasma testosterone for DSD athletes in half to 2.5 nanomoles per litre from five. The WA rules also stated the level must be maintained for at least 24 months before DSD athletes can compete in female competitions. Diouf who reportedly meets this requirement said;
"I started my hormonal treatment three years ago, in January 2020, when I came to South of France. I started it with estrogen, progesterone, and testosterone blockers. I could see results after three, four months. (flash) It was progressive, I mean you don't become a woman overnight, it really does take time. It's gradual."
Diouf's endocrinologist Alain Berliner finds the ban confusing and calls it a "kind of transphobia." Berliner said;
"For this laboratory, the testosterone level for a woman is between 0.08 and, let's say, 0.50 (micrograms per liter – 0.28 to 1.67 nanomoles per liter) and Halba has 0.21 (0.73 nanomoles per liter). So she is absolutely not advantaged in sports by the testosterone because she has very, very little. In Halba's case, who is a woman in every sense of the word – she is hormonally a woman – and from a physiological and legal point of view, a woman. Everything is in order."