NFL star Patrick Mahomes' brother Jackson arrested for aggravated sexual battery
Jackson, younger brother of NFL star Patrick Mahomes was arrested for aggravated sexual battery on Wednesday, May 3, following an alleged incident at a Kansas restaurant in February.
The brother of the Kansas City Chiefs star was booked around 7:45 AM and his bond was set at $100,000. Court records revealed that he's been charged with three counts of aggravated sexual battery. He was also charged with one count of misdemeanor battery.
Jackson was accused of sexually and physically assaulting the owner of the Aspens Restaurant and Lounge. The 40-year-old woman claimed he tried to forcibly kiss her multiple times.
The owner also alleged Jackson seemed intoxicated earlier in the night and claims he shoved a male member of her wait staff. A conviction for aggravated sexual battery in Kansas can carry up to a 55-month sentence.
Shortly after the alleged incident, Jackson's attorney, Brandan Davies, said he did nothing wrong. Davies said;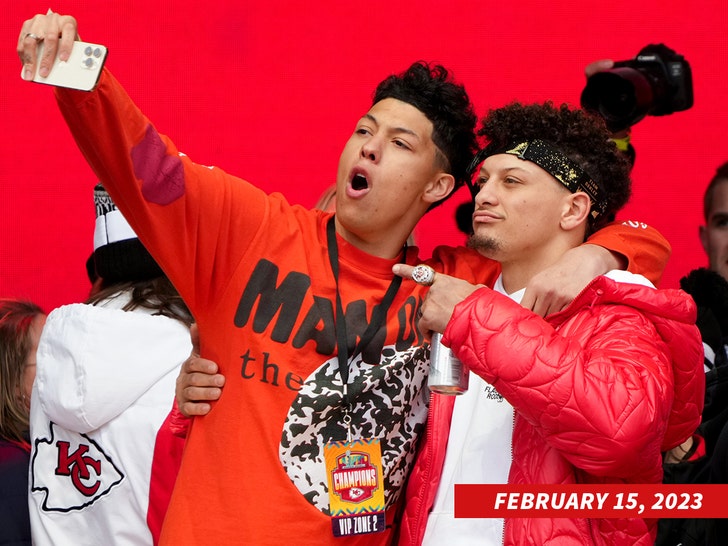 "Our investigation has revealed substantial evidence refuting the claims of Jackson's accuser including the statements of several witnesses. We have reached out to law enforcement to provide the fruit of our investigation so that they may have a complete picture of the matter."
The incident appeared to have been caught on surveillance video and has been under police investigation since March.
Jackson who is known for documenting his life on the internet, spent several weeks out of the public eye following the allegations but has since returned to social media and attended the NFL Draft in Kansas City last week
TMZ reported that it is not the first time Jackson has found himself embroiled in controversy, he also faced backlash for dumping water on Baltimore Ravens fans at a game in 2021 and doing a TikTok dance over Washington's field memorial for late NFL star Sean Taylor a few weeks later. He was also recorded grabbing a woman's face in Las Vegas in 2022.