I Can Beat Anthony Joshua With One Arm Tied Behind My Back, Tyson Fury Reaveals
Tyson Fury is a British boxer that hold the belt for WBC title. The much talked about fight between Tyson Fury and Anthony Joshua has been gaining Momentum over the past few months.
Tyson Fury has come out to say he can beat his boxing counterpart with just one hand and the other tied behind his back.
For the first time in the history of boxing the WBC, WBA, IBF and WBO belts will be set forward as the winner of the match takes it all.
Tyson Fury fought Deontay Wilder, 35 in February last year and he defeated Wilder in the Match.
Although Anthony Joshua is 31-years old and the Nigerian Defeated Kubrat Pulev who is 39 year old recently, and it seems Joshua can give Fury a run for his money because it will be a match to watch.
It seems that negotiations are on going to land both stars the anticipated match, which is the most talked about clash by Boxing Fans all over the world.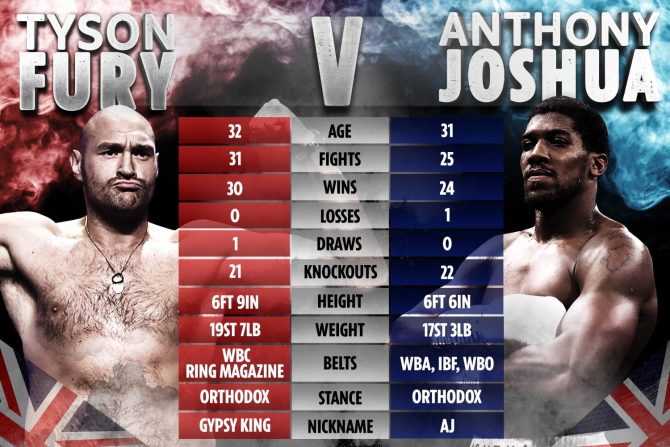 Tyson Fury has said he can still beat the 31 years old even after not fighting since 12 months ago, he further added that beating the Nigerian will prove that he is the best in the world and he is going to do it with a hand tied behind his back.
This was what fury said
So, he'll be a full year ahead of me in activity. But, I'm that much in front of him with skill, a year of inactivity doesn't really do that much.
It is not a new thing for boxers to insult each other before a match.