Jurgen Klopp remains confident in Mohamed Salah after the Liverpool star missed several chances in Saturday's 1-1 draw at Chelsea.
After a slow start to the season, Salah failed to score against Chelsea, going closest in the first half when he saw a shot cleared off the line.
He was taken off in the 66th minute, with Liverpool then scoring late through Daniel Sturridge to salvage a 1-1 draw.
Chelsea 1-1 Liverpool
Klopp refused to criticise last season's top scorer Salah, but said: "It was not Mo's best game of his career, 100 per cent.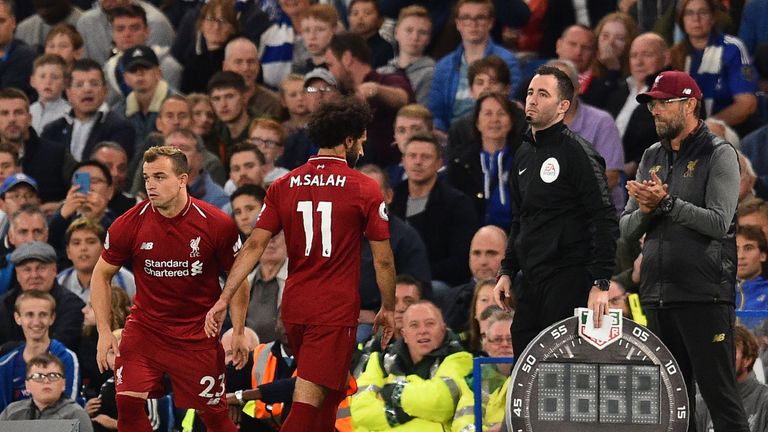 "In a game like this constantly in situations he comes in, that makes you a world-class player. You fail, you miss, whatever, that happens.
"He wants to be decisive, he wants to score in these situations. The first ball he missed it was not the right position. The next one he passed. Why? He could've finished again.
"It's like riding a bike. It's not like you wake up in the morning and you cannot finish any more or cannot ride a bike any more.
"That's how it is, you only need to work for these moments when it's clicking. That's the period he is in, no problem with that, so all good.
While Salah has struggled to hit top form this season, Sturridge has scored in his last three matches.
"He's in the best shape since I've known him," Klopp added. "It's really cool. I'm really happy for him.
"When he came in the dressing room it was pretty loud. The boys were really happy for him because he's in a good moment."
Reflecting on the match, which saw Liverpool drop their first points of the season, Klopp added: "Six, seven times we had big chances. We gave them one proper chance, they used it and we didn't use ours. That's how life is.
"As long as we play like we did tonight we will win football games."